Digitalization is one of the most impactful phenomena in our modern lives and it has been reshaping how our governments, businesses, and our entire society function. Big data, AI and other emerging technologies offer significant opportunities for education, work, social care, health, environmental protection, law enforcement, among other areas, but there are several issues that need to be considered and there is still a long way to go to ensure that the so-called 4th industrial revolution will equally provide benefits and opportunities for all.
One of our most critical societal problems echoed by technology is, indubitably, inequality, in its many forms, levels and layers.  Among existent inequalities, gender inequality intensively manifests itself in the phenomenon of digitalization, as the datafication of society negatively affects people who do not participate in the design of the system the most, including women.
Therefore, responsible innovation must equally provide benefits and opportunities for all, and this goal will be only achieved with inclusion. Tampere AI and Women in AI (WAI) Finland want to bring together leading women working with AI, Big Data, and digitalization in the Tampere Region, who are changemakers striving for more inclusion and justice in our societies. We need to enhance women's digital and entrepreneurial skills and competences, while promoting female role models in order to achieve the inclusion of women in the male-dominated tech industry.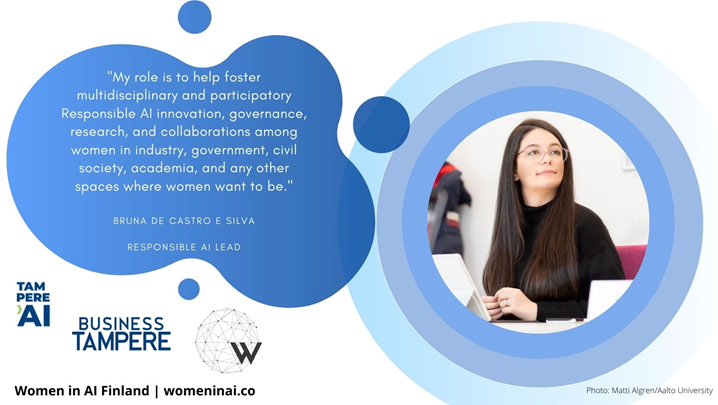 Written by Bruna de Castro e Silva
Come join us tonight at the launch of Women in AI Finland at the Pellava Conference Center!
https://businesstampere.com/?event=women-in-ai-finland-launch